Welcome to 21tnt.com
***UPDATED***
THE WAR FOR FIRST PRINCIPLES:
baptistchristianworldview.com

SALVATION: the Gift of God  Visit the Independent Baptist 
National Window
Visit: Prairie Fire Press 
The Separate Baptist
Preacher-Boy Society
Most Comprehensive list on the web
Independent Baptist Church Index
The Roll CallUpdate Your ListingChurch Plants or StartsChurch Planters EboardCanadaTerritories and Foreign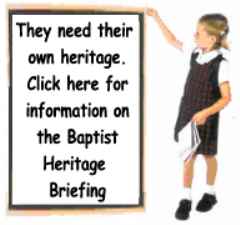 Christian School and Home School Curriculum for Baptists
CLICK HERE FOR PRAIRIE FIRE PRESS 
Read: A Daily Dose of John Leland
This Day in Baptist History 
Pastor Beller's
America in Crimson Red

Click here to see a list of colleges and institutes using America in Crimson Red.
Hear Pastor Beller
on SOUTHWEST RADIO CHURCH
6/27 windows media | 6/27 real player
6/28 windows media | 6/28 real player
6/29 windows media | 6/29 real player
Evangelist Ted Alexander out of Arnold Baptist Tabernacle
WILLIAM CATHCART on: The Novatianists, The Donatists, The Albigensians, and more…A must read for every Bible Believing Baptist! 
MORGAN EDWARDS: Materials for the History of the Baptists in Rhode Island–a web exclusive
TEN AFFIRMATIONS of Baptist Heritage and History
Read THE ORIGIN OF THE CAMPMEETING
Read Spurgeon on "Trail of Blood"ism.
The Baptist History Tour for 2008


A Daily Dose of John Leland


This Day in Baptist History


The Independent Baptist National Window



Daily News


Net Wide Sermons and Illustrations


Doctrinal Articles


Opinion Pages

Links for Ladies


Reference and Theological Archives


Historical links

Baptist History


Editor's Favorites


Conservative Columns

Veterans


Search

Audio-Bible

Stay Informed… AP BREAKING  |  CNN  |  JEWISH WORLD REVIEW  |  FOX NEWS
| PROPHEZINE | ENDTIME MINISTRIES DISPATCH | PRISON PLANET |
Independent Baptist News
THE BAPTIST PILLAR
BAPTIST FIRE
THE BAPTIST CHALLENGE
CALVARY CONTENDER
LION OF JUDAH
THE FLAMING TORCH
PLAINS BAPT CHALLENGER
REVIVAL FIRES
SWORD OF THE LORD
IBnet
BEST OF THE BAPTIST WEB
BAPTIST BIBLE TRUMPET
BAPTIST BIBLE TRIBUNE
BAPTIST LINK
THE BAPTIST
BAPTISTBANNER.NET


Sermon of the Month
Baptist History Preservation Society
I Hate Teenagers
Garbage Truck
Mission America
 

Thank you for visiting with us. There are some wonderful things in store for you here. Why not take a moment and fill out our Visitor's Card that we might have a record of your spending time with us?


Click here to Go to the Sermon Archive
Search the rest of the Magazine
 Mail to us… 

 copyright 2004-2008 –21tnt is a ministry of the Arnold Baptist Tabernacle, 3705 Telegraph Road, Arnold, Missouri 63010 636-464-7955
James Beller, Pastor *texts may be copied for ministry purposes
Daily News:
AP BREAKING
AP ON THE HOUR
AP WORLD
AP NATIONAL
AP WASHINGTON
AP BUSINESS
AP HEADLINES
AP/REUTERS PHOTO WIRE
ABC NEWS
AD AGE DEADLINE
AMER SPECTATOR
C-SPAN SCHEDULE
CHICAGO TRIB
CHICAGO SUN-TIMES
CHRISTIAN SCIENCE
CNN
CNN TRANSCRIPTS
DAILY VARIETY
D.C. DAYBOOK
DRUDGE REPORT
E!
ELECTRONIC MEDIA
EMERGENCY NET
ENT WEEKLY
FINANCIAL TIMES
FORBES MAG
FOX NEWS
INTERNATIONAL HERALD TRIB
INSIDE
INSIGHT MAG
INVEST BUS DAILY
JEWISH WORLD REVIEW
LA DAILY NEWS
LA TIMES
MEDIA CHECK
MSNBC
NATION
NATIONAL REVIEW
NEW REPUBLIC
NY DAILY NEWS
NY OBSERVER
NY POST
NY PRESS
NY TIMES
NEWSBYTES
NEWSMAX
NEWSWEEK
REUTERS ROUNDUP
REUTERS SPOTLIGHT
REUTERS WORLD
REUTERS POLITICS
REUTERS BUSINESS
SCRIPTS-HOWARD
TIME MAG 
UPI NATIONAL
UPI WIRE
UPI WORLD
US NEWS
USA TODAY
WASHINGTON POST
WASHINGTON TIMES
WEEKLY STANDARD
WORLD NET DAILY

Conservative Columns:
(For political junkies, we Baptists are going to get burned, Republican or Democrat.)
DAVID BRODER
WILLIAM F. BUCKLEY
MONA CHAREN
RICHARD COHEN
CHARLES KRAUTHAMMER
DAVID LIMBAUGH
RUSH LIMBAUGH
CHRIS MATTHEWS
PEGGY NOONAN
WILLIAM RASPBERRY
WILLIAM SAFIRE
TONY SNOW
THOMAS SOWELL
CAL THOMAS Reference and Theological Links:
CHRISTIAN CLASSICS ETHEREAL LIBRARY
CREEDS AND CONFESSIONS A.A.HODGE
DICTIONARY
JAMIESON-FAUSSET BROWN BIBLE COMMENTARY
MATTHEW HENRY'S COMMENTARY
NAVES TOPICAL BIBLE
REVIVAL ESSAYS
SEARCH THE KING  JAMES BIBLE
STRONG'S EXHAUSTIVE CONCORDANCE
SHILOH ONLINE LIBRARY
SMITH'S BIBLE DICTIONARY
VINES EXPOSITORY DICTIONARY
WOEGER BIBLE COLLECTION
GIDEON'S SWORD
Historical links:
CHAPEL OF THE MARTYRS
THE BOGOMILS OF BOSNIA AND BULGARIA
ELECTRIC LIBRARY
EUSIBIUS CHURCH HISTORY
HISLOP'S THE TWO BABYLONS
HISTORY OF THE WALDENSES
WILLIAMSON ON THE WALDENSES
TYNDALE'S LIFE AND WORK
EXLIBRIS
CONFESSION OF ST. PATRICK
THE HANOVER HISTORICAL TEXT PROJECT

Baptist History links:
ANABAPTIST BIBLIOGRAPHY
OXFORD HYPERTEXT PROJECT FOR ANABAPTIST WRITINGS
BAPTIST HISTORY REFERENCE FROM 21TNT
BAPTISTPAGE HISTORICAL LINKS
J.T.CHRISTIAN'S HISTORY OF THE BAPTISTS
BENEDICT'S 50 YEARS AMONG THE BAPTISTS
IVIMEY'S HISTORY OF THE ENGLISH BAPTISTS
GRAVES BAPTIST ORIGINS
THE TRAIL OF BLOOD
WELSH BAPTIST SUCCESSION
WILLIAM CAREY'S "MEANS"
BAPTIST HERITAGE ORG
J.M.CRAMP'S HISTORY OF THE BAPTISTS
OLD FAITH BAPTIST LIBRARY 

Netwide Sermons:
21TNT.COM
PASTOR DAN'S SERMON OUTLINES
PREACHING IN REAL AUDIO
LEE ROBERSON
SERMONS.ORG
JACK HYLES
VOICINGS.COM
JONATHAN EDWARDS
CHARLES SPURGEON
JOHN WESLEY
THE PREACHERS CORNER
SERMON CENTRAL
CHRISTIAN CLASSIC ETHERAL LIBRARY
GEORGE WHITEFIELD
LESTER ROLOFF
THE TERTULLIAN HOME PAGE
CHARLES FINNEY
JOHN BUNYAN
M'CHEYNE, MACLAREN, TORREY, NETTLETON, G. CAMPBELL MORGEN, ETC.
RAVENHILL
INVIT.COM (HAS A NUMBER OF LESTER ROLOFF'S SERMONS)
IFBAPTIST.COM
ROBINSON'S SERMON ARCHIVE

Doctrinal Articles:
21TNT.COM
BELLER'S ESSAYS
APOLOGETICS
BIBLE VERSIONS EXAMINED
CAMPMEETIN
CREATION SCIENCE
DIAL THE TRUTH
FELLOWSHIP TRACT LEAGUE
LIFEGATE TRACTS
FINAL AUTHORITY
FINNEY ON ORIGINAL SIN
KING JAMES DEFENDED
KING JAMES BIBLE PAGE
LOGSDON'S REPUTIATION OF THE NASV
LOGOS RESOURCE
MISSION TO CATHOLICS
MORMON WEB
PSYCHOHERESY
SURE WORD
RIPLINGER'S DEFENSE OF THE KJV
JOHNNY THE BAPTIST
TRANSLATION ISSUES
TRINITARIAN BIBLE SOCIETY
WHOLESOME WORDS
LEARN THE BIBLE 

Search Engines:
ALTA VISTA
EXCITE
GOOGLE
LYCOS
MAMMA
WEBCRAWLER
YAHOO
4 SEARCH

Veterans:
VFW.ORG
WWI ARCHIVE
WWII LINKS
WW II VET
THE GREAT WAR FROM PBS
VIETNAM VET PAGE
VETERANS DAY REMEMBRANCE
KOREAN WAR.ORG
DESERT STORM
VETERANS DAY
THE AMERICAN LEGION
THE PRICE PAID

Editor's Favorites:

FAITH MUSIC MISSION
DYNAMIC DRIVE JAVA
SCRIPT SEARCH
POETRY ARCHIVE
ANCIENT BOOKS
C-NET.COM
BASS PRO SHOP
BEAR'S PAW BOWS
BIBLE BELIEVING BOWMEN
POSTNET.COM
MCALVANY INTELLIGENCE REPORT
THE LANGUAGE BARRIER
M-O-A BOOKS
TECH GUY FORUM
THE SIGHT WIZARD

IFB Opinion 
Pages:
BELLER'S ESSAYS
FRANK BROUGHTON'S NEWS LINKS
WATTS WISDOM
Links for Ladies:
MARANATHA!
RECIPES
AUNT ANNIES
FUNDAMENTAL BAPTIST LADIES WEBRING
MOM OF NINE (CHECK OUT THE LINKS)
PROVERBS 31 WEBRING
SUNSHINE'S LINKS

Links for Teens:
GLOW IN THE DARK
LOVEKJB.COM/CHARIOTS 
May we hear from you? Why not take a minute and fill our our visitor's card…

fill out our visitors card