Baptist History Preservation Society
"Baptist History Tour 2000″
click here to go back to the Baptist History Preservation Society page from 21tnt
click here to view the 1999 tour and the Whitefield project
WARNING: LONG LOADING TIME…WELL WORTH THE WAIT!
Pastor Jeffery Faggart of Harvest Baptist Church and Harvest Bible distributors conducted his third tour of Baptist and Revival history. Last year, Bro. Faggart (at the expense of his church, which lovingly provided all fares and motel bills), took 50 preachers to New England to see the historic sites concerning Obadiah Holmes, Issac Backus, Jonathan Edwards, George Whitefield, Dwight Moody, John Leland and a host of others.

In March of 2000,  we were treated again to moving motivated history as we toured North Carolina, Virginia, South Carolina and Georgia and saw the incredible influence of Sandy Creek Baptist Church under Shubal Stearns and the awakening wrought by the Holy Spirit through the men of the Separate Baptist movement: Samuel Harriss, Daniel Marshall, Lewis and Elijah Craig, James Ireland, the Mulkey brothers, Richard Furman, the Mercers, and others. 
Below are posted some pictures from these sites.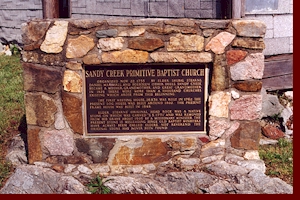 The stone in front of Sandy Creek church in Liberty, North Carolina. Pastor Faggart preaching at the foot of the grave of Shubal Stearns.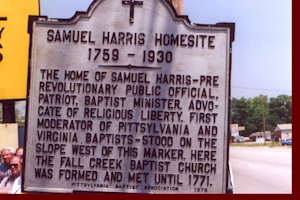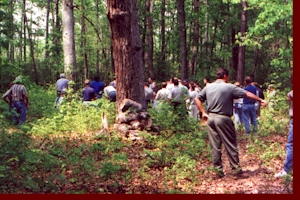 At the home site of Samuel Harriss. He is buried somewhere near here in an unmarked grave. The site of the first Baptist church in northern Virginia, where Craig and Harriss were arrested.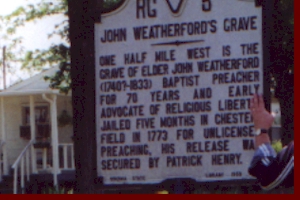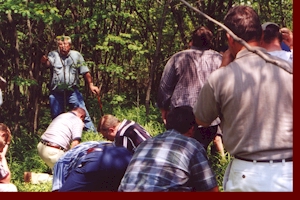 Sign announcing Weatherford's grave site–near Chesterfield, Virginia. This preacher had his wrists slashed while preaching from his jail cell. Weatherford's grave: here is a prayer meeting deep in the woods, where the patriot's grave is covered with underbrush.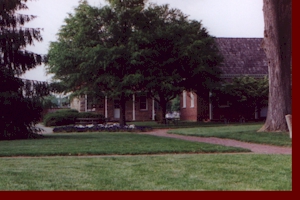 Plaque on the site of the jail at Chesterfield, Virginia were Weatherford and others suffered. Here is the site of Chesterfield jail.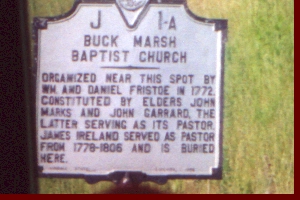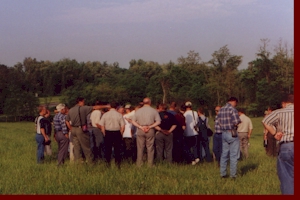 Sign indicating the site of James Ireland's church. Ireland was jailed and his family poisoned, losing his daughter. The cow pasture near Berryville, Virginia where somewhere, known only to God, James Ireland is buried.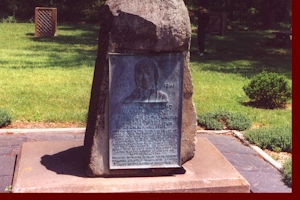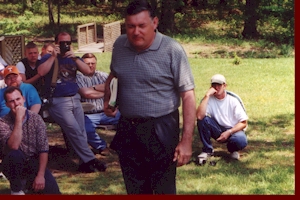 Stone of remembrance for John Leland, the preacher who brokered the Bill of Rights. –Leland Park, Virginia. Randy Gipson, pastor and historian, preaches in Leland Park. Gipson is a direct descendent of the Craig brothers and Samuel Harriss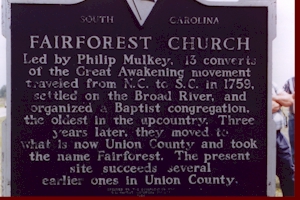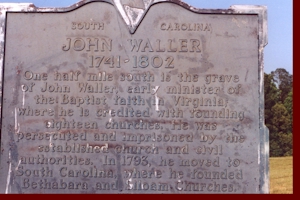 The revival from Sandy Creek moved south. Mulkey and Waller were "children" of Sandy Creek.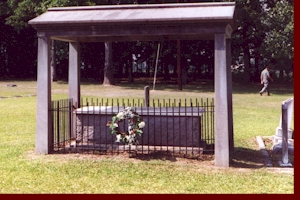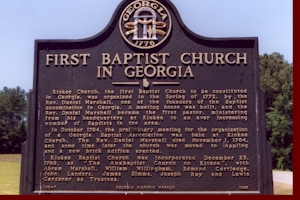 Here is the tomb of Luther Rice. The Revival moved west with Daniel Marshall and his son, Abraham.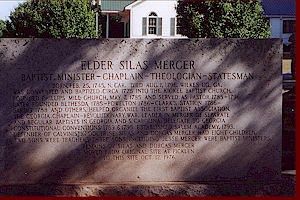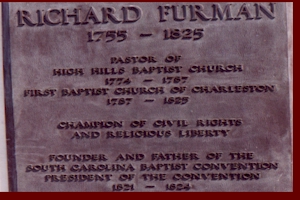 The Revival spread through Georgia through the Mercer family… …and the Furmans.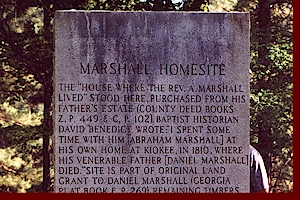 And their works do follow them… A marker from the Marshal family homesite in Kiokee, Georgia.  Both Daniel and Abraham and their families are buried here.
The Baptist History Preservation Society is something worthy of support.  If you would like to be a part of this ministry,  contact Bro. Faggart.
©2003-2005 Prairie Fire Press  *texts may be copied for ministry purposes