click here to view the 1999 tour and the Whitefield project
click here to view the 2000 tour 
click here to view the Gano/Hickman project 
click here to see the pictures from the bus accident
click here for the Holmes/Clark project
Baptist History Preservation Society
"…let them come when they are grown up, let them come when they understand, let them be made Christians when they can know Christ."–Tertullian, writing against infant baptism in A.D. 200.
The Baptist History tour 2008 will be held May 5th-9th.  The 2008 tour will be in the Midwest with sites including those of Jeremiah Vardemann and Isaac McCoy. 
A word from Bro. Faggart:
The 2007 tour, once again, proved to be a blessing. Forty-six men gathered at the Lehigh Valley Baptist Church in Emmaus, Pennsylvania the morning of May 7th for the five day trip. We enjoyed the best of fellowship and preaching that week while visiting many forgotten Baptist sites. During the tour, the Baptist History Preservation Society unveiled two new memorial markers. 
The first marker was placed at the Pennepack Baptist Church in Philadelphia. Organized in 1688, Pennepack is the oldest Baptist Church in Pennsylvania. The second marker was placed at the Sixth Avenue Baptist Church in Brooklyn, New York, in honor of Robert Lowry. A Baptist pastor, Lowry is best known for composing such hymns as Shall We Gather at the River and Nothing But the Blood of Jesus. These markers were numbers twelve and thirteen placed by the Society. Thanks to all those who helped with these projects.
The Lord willing, our next Baptist History Tour will be May 5th – 9th, 2008. 
Please make plans now to attend.
Contact information is provided below.
Jesus Loves You!
Pastor Faggart
The Baptist History Preservation Society is a ministry of Harvest Baptist Church in Rockwell, North Carolina. Founded in 1998, this ministry is dedicated to preserving the rich heritage of the Baptists. Our history can be traced through books and blood, from pulpits to prisons, and from courts to cemeteries. The Ministry includes:
Procuring and restoring rare books and writings
Restoring and maintaining historic sites and churches
Erecting and restoring grave markers
Baptist History Tours
Preaching and teaching on Baptist History
A future Baptist History Museum and Library
You may contact Bro. Faggart at (704) 785-8580 or email at- bhps@ctc.net Pastor Jeff Faggart Harvest Baptist Church 640 Rimertown Rd. Rockwell, NC 28138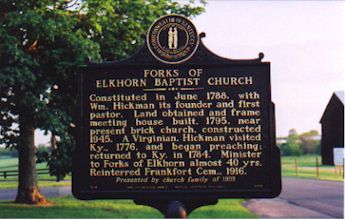 This church founded as a result of the famed Wilderness Revival.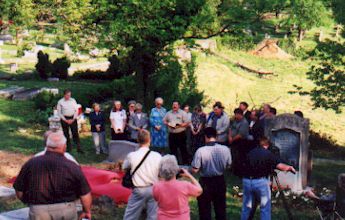 Bro. Faggart addresses the crowd at the gravesite of Hickman and Gano.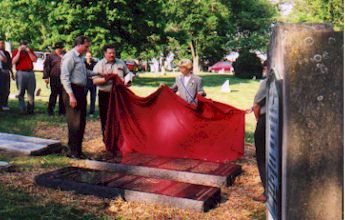 Hickman and Gano grave markers unveiled.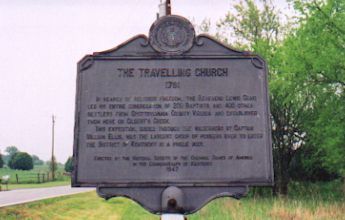 The Revival from Sandy Creek church, North Carolina lived on and on in the lives of the Marshalls, Mercers, Mulkeys, Craigs, and the Lanes.
The Baptist History Preservation Society is something worthy of support.  If you would like to be a part of this ministry,  contact Bro. Faggart.

©2006-20010 Prairie Fire Press  *texts may be copied for ministry purposes