Baptist History Resource Page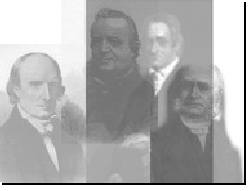 This page links the following resources:


William Cathcart's Essays on the Novatianists, Donatists, Albigenses, Henricians, Petrobrussians, and the Anabaptists. Must reading for any Baptist History student.

Biographies of the Baptized Believers

Baptist Historians 


Issac Backus

David Benedict

John Callender

J. M. Carroll

John Comer






Baptist Historians-21TnT

Thomas Armitage, D.D.
Thomas Armitage was born in Yorkshire, England, in 1819. He is descended from the old and honored family of the Armitages of that section of Yorkshire, one of whom, Sir John Armitage, of Barnsley, was created a baronet by Charles I, in 1640. He lost his fater a few years since, and his mother when five years old. She was the granddaughter of the Rev. Thomas Barrat, a Wesleyan Methodist minister. She had great faith in Jesus, and prayed often and confidently for the salvation of her oldest son, Thomas. At her death she gave him her Bible her chief treasure, which she received as a reward from her teacher in the Sunday school. Her last prayer for him was that he might be converted and become a good minister of the Saviour.

The religious influence of his godly mother never forsook him. While listening to a sermon on the test, "Is it well with thee?" his sins and danger filled him with grief and alarm, and before he left the sanctuary his heart was filled with the love of Christ.

In his sixteenth year he preached his first sermon. His text was, "Come unto me all ye that labor and are heavy laden, and I will give you rest." The truth was blessed to the conversion of three persons. He declined pressing calls to enter the regular ministry of the English Methodist Church, but used his gifts as a local preacher for several years.

Like many Englishmen he imbibed republican doctrines, and these brought him in 1838 to New York. He received deacon's orders from Bishop Waugh, and those of an elder from Bishop Morris. He filled many important appointments in the M. E. Church in New York, and when he united with the Baptists he was pastor of the Washington Street church in Albany, one of its most important churches, where the Lord had given him a precious revival and eighty converts. At this period his influence in the M. E. Church was great, and its highest honors were before him. When he was first examined for Methodist ordination he expressed doubts about the church government of the Methodist body, and about sinless perfection, falling from grace, and their views of the ordinances; but he was the great-grandson of a Methodist minister, his mother was of that communion, and he himself had been a preacher in it for years, and his misgivings were regarded as of no moment. In 1839 S. Ilsley, which made him almost a Baptist, and what remained to be done to effect that end was accomplished by another baptism in Albany, administered by the Rev. Jabez Swan, of Connecticut. An extensive examination of the baptismal question confirmed his faith, and placed him without a misgiving upon the Baptist platform in everything. Dr. Welshp baptized him into the fellowship of the Pear Street church. Albany. Soon after a council was called to give him scriptural ordination. Dr. Welsh was moderator; Friend Humphrey, mayor of Albany, and Judge Ira Harris were among its members. A letter of honorable dismissal from the M. E. Church, bearing flattering testimony to his talents and usefulness, was read before the council, and after the usual examination he was set apart to the Christian ministry in the winter of 1848. He was requested to preach in the Norfolk Street church, New York, in the following June. The people were charmed with the stranger, and so was the sickly pastor, the Rev. George Benedict. He was called to succeed their honored minist, who said to Mr. Armitage, "If you refuse this call it will be the most painful act of your life." Mr. Benedict never was in the earthly sanctuary again. Mr. Armitage accepted the invitation, in his twenty-ninth year, July 1, 1848. In 1853-54 140 persons were baptized, and in 1857 152, while other years had great blessings.

The first year of his ministry in Norfolk Street the meeting-house was burned, and another erected. Since that time the church reared a house for God in a more attractive part of the city, which they named the "Fifth Avenue Baptist church." The property is worth at least $150,000, and it is free from debt. The membership of the church is over 700. In 1853, Mr. Armitage was made a Doctor of Divinity by Georgetown College, Ky. He was then in his thirty-fourth year.

At a meeting held in New York, May, 1850, by friends of the Bible, Dr. Armitage offered resolutions which were adopted, and upon which the Bible Union was orgainzed two weeks later, with Dr. S. H. Cone as its president, and W. H. Wyekoff, LL.D., as its secretary. In May, 1856, Dr. Armitage became the president of the society. In this extremely difficult poisiton he earned the reputation of being on of the ablest presiding officers in our country. The Bible Union reached its greatest prosperity while he presided over its affairs.

Dr. Armitage is a scholarly man, full of information, with a powerful intellect; one of the greatest preachers in the United States; regarded by many as the foremost man in the American pulpit. We do not wonder that he is so frequently invited to deliver sermons at ordinations, dedications, installations, missionary anniversaries, and to college students. As a great teacher in Israel, the people love to hear him, and their teachers are delighted with the themes and with the hearld.

Seventeen years ago a gentleman wrote of Dr. Armitage, "The expression of his face is one of mingled intelligence and kindess. As he converses it is with animation, and his eyes sparkle. His manners are easy, graceful, and cordial. He fascinates strangers and delights friends. He appears before you a polished gentleman, who wins his way to your esteem and affaction by his exalted worth. The description has been confirmed by time.
source: Cathcart's Baptist Encyclopedia


Baptist Historians-21TnT

ISSAC BACKUS
Isaac Backus was born at Norwich, Connecticut, January 9, 1724, of parents who were actively identified with the "pure" Congregationalism, and his early religious training influenced greatly his future life.  He was converted in 1741 during the Great New England Awakening, but did not join himself to the church until ten months later, and then with some hesitation, owing to the laxity of church discipline and its low state of religious feeling.  Feeling himself called by God to the work of his ministry, he shortly after began to exhort and preach, although at that time there were penal actions against public preaching by any except settled pastors, unless with their consent and with their express desire.
His first pastorate was that of a Separate church at Middleborough, to which he was ordained in 1748.  The subject of baptism was agitating the church of which Mr. Backus took charge, and it was only after a long and bitter struggle with himself that he came out unreservedly for baptism through a profession of faith.  His stand on the subject and his baptism soon led to his exclusion from the church, although he did not consider himself a Baptist, nor did he desire to connect himself with that denomination.  He labored as an evangelist until 1756, when, with six baptized believers, a Baptist church was formed in Middleborough, and Mr. Backus became its pastor.
Isaac Backus was the first Baptist historian in America, and his words are of great value on account of the deep research he made in the collection of his material, and his impartiality in presenting the facts. The Baptists owe much to him for the discovery and preservation of many interesting and important events concerning their history during colonial times.
Backus was a champion of "soul-liberty," and was himself arrested for refusing to pay taxes in support of the state church.  His mother, Elizabeth Backus, was imprisoned for refusing to pay rates in support of the standing order.  Isaac Backus died November 20, 1806, having lived a useful life for God.
*SOURCES CITED ARE CATHCART'S BAPTIST ENCYCLOPEDIA AND BENEDICT'S  HISTORY OF THE BAPTISTS.


Baptist Historians-21TnT
DAVID BENEDICT

Benedict, David, D.D.,

David Benedict, the Baptist historian, was born in Norwalk, Conn., Oct. 10, 1779. His love for historical reading and investigation developed intself in early life. At twenty he made a profession of his faith in Christ. Religion did for him what is has done for so many thousands of others, –quickened his intellectual nature, and made him aspire after something elevating. He entered Brown University, where he graduated in 1806. Soon after he was ordained as pastor of the Baptist church in Pawtucket, R. I., where he remained twenty-five years. During all this time he had been busy in gathering, from every part of the country, the materials out of which to form a comprehensive history of the Baptist denomination, and had sent to press several volumes relating to the subject of his investigations. After retiring from his pastorate, he gave himself with great diligence to the work of completing the task he had undertaken. He felt it to be his special vocation to do this work, and he made everything bend to its accomplishment. Among his published writing are the following: "History of the Baptist," 1813; "Abridgment of Robinsons' History of Baptism," 1817; "Abridgment of History of the Baptists," 1820; "History of all Religions," 1824; "History of the Baptist Continued," 1848. "Fifty Years among the Baptist," 1860. He wrote also a history of the Donatists, which was completed just before he was ninety-five years of age, and which, since his death, has been printed. All through his life he was in the habit of writing much for the public press. He took a leading part in the founding of various religious organizations in his denominations, in promoting the cause of education, in the formation of new churches, etc. He carried the habits of hard work, which he had formed in the maturity of his years, down to the close of life. He was remarkably favored with good eyesight, and his vision was unimparied to the last. At the time of his death he had been the senior member of the board of trustees of Brown University for sixteen years, and had been in the corporation for fifty-six years. Dr. Benedict died at Pawtucket, Dect. 5, 1874, having reached the great age of ninety-five years one month and twenty-five days.
source: Cathcart's Baptist Encyclopedia


Baptist Historians-21TnT
J. M. Carroll
Baptist historian. Wrote the definitive short history, "The Trail of Blood".


Baptist Historians-21TnT
WILLIAM CATHCART

William Cathcart was born in the County of Londonderry, in the north of Ireland, Nov. 8, 1826; his parents, James Cathcart and Elizabeth Cously, were of Scotch origin, the stock known as Scotch-Irish in the United States. He was brought up in the Presbyterian Church, of which, for some years, he was a member. The Saviour called him into his kingdom in early life, and taught him that he should preach the gospel. He was baptized by Rev. R. H. Carson, of Tubbermore, in January, 1846. He studied Latin and Greek in a classical school near the residence of his father. He received his literary and theological education in the University of Glasgow, Scotland, and in Horton, now Rawdon College, Yorkshire, England. He was ordained pastor of the Baptist church of Barnsley, near Sheffield, England, early in 1850. From political and anti-state church considerations he determined to come to the United States in 1853, and on the 18th of November in that year he arrived in New York. In the latter part of the following month he became pastor of the Third Baptist church of Groton, in Mystic River, Conn. In April 1857, he took charge of the Second Baptist church of Philadelphia, Pa., where he was since labored. In 1873, the University of Lewisburg conferred on Mr. Cathcart the degree of Doctor of Divinity. In 1876, on the retirement of Dr. Malcom from the presidency of the American Baptist Historical Society, Dr. Cathcart was elected president, and has been re-elected at each annunal meeting since. In 1875, in view of the Centennial year of our national independence, the Baptist Ministerial Union, of Pennsylvania, appointed Dr. Cathcart to prepare a paper, to be read at their meeting in Meadville in 1876, on "The Baptists in the Revolution." This paper, by enlargement, became a duodecimo volume, entitle "The Baptists and the American Revolution." Dr. Cathcart has also published a large octavo, called "The Papal System," and "The Baptism of the Ages and of the Nations."
source: Cathcart's Baptist Encyclopedia

Baptist Historians-21TnT
John Comer-first gatherer of Baptist Materials in America
Corner, Rev, John was born in Boston, Aug. 1, 1704. He was the eldest son of John and Mary Corner. While on a voyage to England to visit his relatives his father died leaving his child, then less than two years of age, to the care of his widowed mother and his grandfather, who bore the same name with himself. When he reached the age of fourteen he was placed as an apprentice with a glover to learn that trade. His heart, however, was not in his work. He longed to obtain an edu­cation. Through the intercession of Dr. Increase Mather arrangements were made to release him from his apprenticeship when he was in the seven­teenth year of his age. He commenced at once a course of preparatory study, and entered Harvard College, and subsequently became a student in Yale College. While a member of Harvard Col­lege he became a Christian, and united with the Congregational church of which Rev. Nathaniel Appleton was the pastor. He afterwards became a Baptist, and was baptized by his uncle, Rev. Elisha Callender, Jan. 31, 1725, and united with the First Baptist church in Boston. Soon after he connected himself with the church in Boston he began to preach, first as a supply of the venerable church in Swanzey, Mass., where he remained a short time, and then went, to Newport, R. I., where be was ordained as a colleague with Rev. Wil­liam Peckham, of the First Baptist church, in 1726. lie remained with this church not far from three years, and then resigned in consequence of his attempt to have the practice of laying on of hands uniformly observed by the church in the ad­mission of new members The next two years Mr. Corner acted as a supply of the Second Baptist church in Newport, and then became the pastor of a church in the southern part of old Rehoboth, Mass., near to Swanzey. This church maintained his peculiar views on the subject of the laying on of hands. His connection with this church con­tinued about two years, and was terminated by his death, which occurred May 23, 1734, in his thirtieth year.
Rev. Dr. Henry Jackson says of Mr. Corner,
"He was a gentleman of education, piety, and great success in his profession. During his brief life he collected a large body of facts, intending at some future period to write the history of the American Baptist churches. His manuscripts he never printed, nor did he, as I learn, ever prepare them for publication. He was even unable to re­vise them, and they were, of course, left in their original condition. Nevertheless, he made an able and most valuable contribution to Rhode Island history. His papers were probably written about 1729—31." From all the accounts which we have of Mr. Comer he gave promise of great usefulness. Mr. Corner was the most remarkable young man in the Baptist history of New England, and his early death was a calamity to the churches in that section of our country, suffering at the time so severely from Puritan persecutions, and needing so much his unusual talents and splendid acquire­ments for the marvelous prosperity, the bright day of which was so soon to break upon our struggling and hopeful communities.
Baptist Historians-21TnT
Thomas Crosby- the first English Baptist Historian
Thomas Crosby was a London Baptist of great influence in our denomination. He was married to a daughter of the celebrated Benjamin Keach. He taught an advanced school for young gentlemen. He was a Baptist deacon for many years, and he was selected to make the usual statement on behalf on the church when Dr. Gill was ordained the pastor of the church of which Mr. Crosby was a member.

Mr. Stinton, the brother-in-law of Thomas Crosby, and the predecessor of Dr. Gill, had collected materials for a work on Baptist history, which was never published. These materials were given to Crosby. And he says, "That if the ingenious collector of the materials had lived to digest them into proper order, according to his design, they would have appeared to much greater advantage" (than in his book). When the Rev. Daniel Neal, a Congregationalist, was preparing his well-known "History of the Puritans," Mr. Crosby sent Mr. Stinton's materials to Neal, thinking that the history of the Baptists in England would necessarily be a part of the history of the Puritans. After keeping the manuscripts for several years, less than five pages of this third volume contained all that he said about the Baptists. This circumstance, and the unkind reflections upon the few Baptist ministers whose names he condescended to notice, furnished the reasons why Mr. Crosby wrote his "History of the Baptists." Bunyan, Kiffin, Keach, and Stenneet failed, by their great positions, to persuade Neal to give them a place in his work, though all England knew them.

Mr. Crosby's "History of the English Baptists," published in London in 1738, 1739, and 1740, is worth its eight in gold many times over. Like Ivimey's "History of the English Baptists", it is very scarce, and a copy of it brings a high price.
source: Cathcart's Baptist Encyclopedia

Baptist Historians-21TnT
John Callender–Historical discourse of New England 1734 Callender, Rev. John, was born in Boston in 1706, and was the nephew of Rev. Elisha Callen­der. In early youth he evinced unusual intellec­tual ability, and it was deemed best by his friends that he should have a liberal education. His pre­paratory studies having been completed he entered Harvard College, where he availed himself for his pecuniary support of the Hollis foundation. He was graduated in the class of 1723. A few years after his graduation he was ordained as co-pastor, in Newport, R. I., with Rev. William Peckham, succeeding in this relation that gifted young preacher, Rev. John Comer. His ordination took place Oct. 13, 1731. Few Baptist ministers of his times were better educated than Mr. Callender. He was held in high respect in the community in which he lived, which at that time was among the most cultivated in New England. His best-known work as an author is a "Historical Dis­course on the Civil and Religious Affairs of the Colony of Rhode Island and Providence Plan­tation from the First Settlement in 1638 to the End of the First Century." An edition of this valuable discourse was prepared with great care by Rev. Romeo Elton, D.D., and forms one of the volumes of the Rhode Island Historical Society's collections. It is regarded as standard authority in the matters of which it treats. Mr. Callender collected also many papers, which Rev. Mr. Backus found to be of great service to him in the prepara­tion of his history of the Baptists. Mr. Callender died Jan. 26, 1748.
Baptist Historians-21TnT

ROBERT SEMPLE
source: Cathcart's Baptist Encyclopedia


Baptist Historians-21TnT

Baptist Historians-21TnT
Thieleman J. van Braght
Van Braght was the dutch AnaBaptist historian of the 17th century. He compiled the colossal "Bloody Theatre, or Martyr's Mirror of the Defenseless Christians", the most exhaustive book ever printed on the subject of Baptist martyrs. It was published in 1660. American Mennonites have continued to publish the work. (Herald's Press, Scotsdale, Pennsylvania)

Mail to -

©2004-2006 Prairie Fire Press  *texts may be copied for ministry purposes
spotlight[cur].width+200){ direction[cur]="left" x[cur]-=10 } else if (x[cur]>-200&&x[cur]